8 Ways in which School Franchisees Serve as a Propeller for Education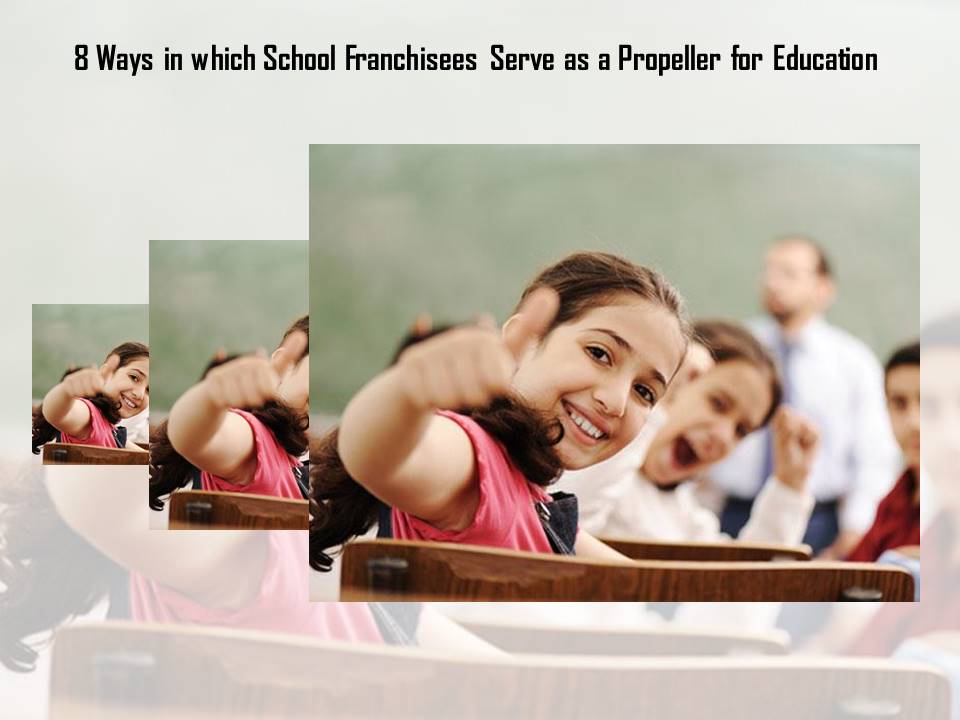 Schools or educational institutions are the Prima Facieof imparting knowledge. In ancient days, knowledge meant everyday living and learning, and then, with the progress in thinking came the changes. Changes, that drove us to invent and to discover. Discoverers and inventers gave birth to subjects like science and geography. But, is learning few books and subjects enough to thrive in today's competitive world?When we face an interview, our certificates and degrees only don't matter. The very first look sets an impression. The way we talk, walk, sit and even fold our legs speaks a lot about what we are! And how we are!So, studying isn't enough, the need of the hour is 'overall development'. We, as parents, inspite of our ardent efforts, cannot fulfill the increasing demands that a growing society imposes on our children in terms of the competition(s) around.
School Franchisees Serving as a Propeller for Education
Educational success as well as grooming of a personality is only possible at a formal forum like school, where every child is perpetually, treated alike irrespective of distinctions like caste, creed and so on.What's noticeable is, owing to the importance of an educational institution in a child's life, many business aspirants are engaging vigorously in commercial education through school franchisee opportunities. Eight ways, by which a school franchise in India serves as a propeller for education,
Education industry is growing in leaps and bounds; so predominantly, the unorganized sector attracts huge investments in terms of the franchisee models, because of lesser regulations and minimal infrastructure requirement.
One can choose among preschool, school, preparatory classes for entrance exams, specialized courses like English speaking and Computer classes, and any kind in the available franchisee models.
Opening a school is a benevolent gesture. It makes a positive difference in the society. Through, school franchisees, quality education is imparted to children, who are deprived of it due to not living in towns.
Most reputed schools that lend out franchising, provides support by sharing their layout, curriculum plan, teacher trainings and in-house operations management, which is immensely beneficial in time and funds saving.
Schools now, are not only about learning books. Extra-curricular activities, personality development, communication skills and other such aspects form a rigid component in today's school routine. Teachers need training for guiding the kids adequately. Such specialized training and these need-of-the-hour practices are easily managed in Franchisees, under the mother branch's surveillance.
School franchises generally outsource their services like transport, cafeteria, books and uniforms, library, swimming pool maintenance and so on. These ministrations are taken up by vendors, who are smoothly managed by a chain of franchisees. Parents, in turn, are relieved to find a one-stop-solution at school itself.
Education has scaled from learning under the trees to smart-board classroom-teaching. Studies have become technology based; the latter incurs huge costs in installation and preservation. For a single school, the process is burdensome, unlike in the franchises.
Lastly, school franchises are adept, rather further competent than single institutions in encouraging inter school competitions, exchange programs, visiting lectures and field trips.
Owing to the importance of educational institutions in the lives of children, many business aspirants are engaging vigorously in commercial education through school franchisee opportunities; and this is where school consultants in India like Shri Educare holds their hands and guides the through!