Create a Website Easily at hPage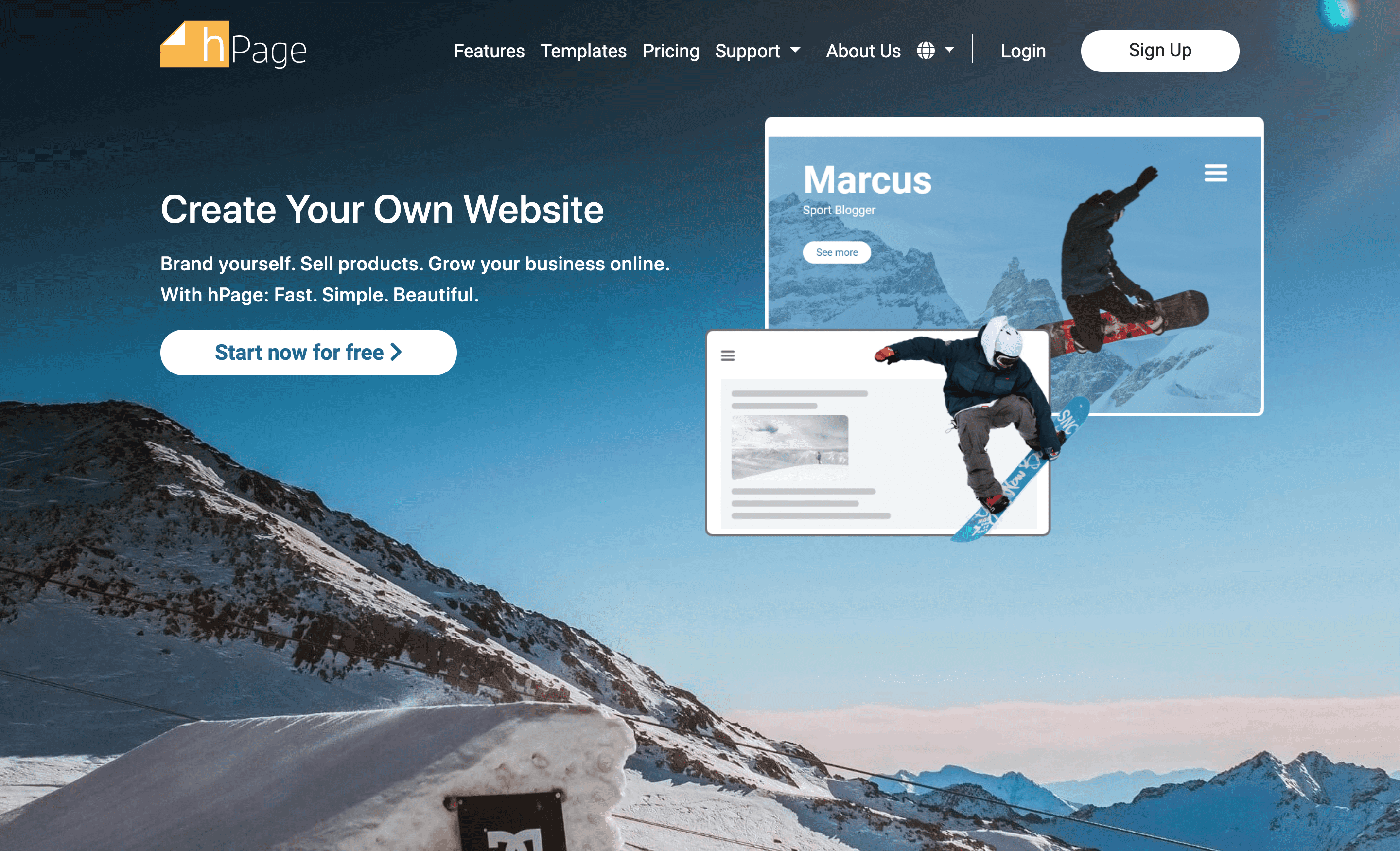 If you want to flourish online, you need to have a strong presence on the internet. If you have a business, hobby, project, portfolio, you are responsible for marketing it so that you can have an audience who can see what you offer. In order to do this, you need to have a website of your own.
Unfortunately, this may take a toll on some people. They don't know how to market a website let alone creating and building one.
But good thing that there are tools such as website builders that will help you create a professional website even without coding or programming experience.
INTRODUCING THE HPAGE WEBSITE BUILDER
Thanks to the hPage.com free website builder, anyone can be able to create a professional website in minutes. Actually, millions of users have already published their web pages on a website builder already.
In addition, the hPage.com Website builder will help you build a stunning website and also help you connect with your network in Google, Facebook and other social networks.
A website builder is designed for owners of small businesses, dreamers and entrepreneurs who want to connect online with their target audience so that they can benefit from their products, services, and ideas.
If you publish your new web page in an empty digital space, will someone notice your presence? Probably not.
You have to try to bring traffic to your new website. If you do not have experience in search engine optimization, the hPage website builder will be of great help to present your idea on the Internet and position your website comfortably with its search engine visibility tool.
Other creators of web pages can help you create a good site, but with hPage, you will stand out above the rest.
The hpage website creator is fully integrated with marketing and e-commerce tools.
So, as your business or ideas grow, this website creator will also grow. Start now with a simple web page and add new options, such as email marketing or an online store, when you're ready.
As a user of the Website Maker, you will always have the tools you need to progress both online and in real life.
BUILD A PROFESSIONAL WEBSITE IN LESS THAN AN HOUR WITHOUT TECHNICAL KNOWLEDGE
hPage's vision is to radically change the global economy toward independent entrepreneurs. So if you have a small business or a new idea to share with the world, count on us. You are full of ideas, but you have little time. This website builder is specifically designed for people who are amateurs, beginners, novices, and even experts who want a new website done in no time!
DESIGNS ADAPTED TO YOUR IDEA OR SECTOR
Type down the name of your website and the origin of your idea or business, and we will recommend relevant features, content, and images. Then customize it to your style by testing the different features and adding your own photos and content. You can play with the different designs offered by the tool until you find the one you like most.
EDITOR "SWIPE-TO-STYLE"
With the website creator, you can change the structure of your site quickly, simply sliding the cursor between the different designs and styles that the tool offers, select the designs and immediately visualize how the design adapts to your content, you can modify the font and color of the text whenever you want.
COMBINE AND RELATE THE CONTENT OF THE SECTIONS
Customize each page of your website by mixing and linking sections of content to adapt it to your needs. And, as your needs change, you can always add new features. When you're ready, you can easily update your web page to include a registration form, an event calendar or a video.
DOMAIN FLEXIBILITY
Launch your new website with a domain name that is easy to remember and reflects your brand or personality (for example, ABC.com). Even if you have not decided yet? No problem, you can publish your web page now with your own FREE subdomain on hpage.com (for example, ABC.hpage.com) and customize it later.
GOOGLE RANKINGS
Make people find you easily when they search the Internet. With the incorporation of the search engine visibility (SEO) tool, it will allow you to optimize your web page step by step for the main search engines such as Google, Yahoo! and Bing automatically. The search ranking of your web page can have a big impact on your business.
CONNECT YOUR WEBSITE TO YOUR ACCOUNTS ON SOCIAL NETWORKS, SUCH AS FACEBOOK
Connect your website to Facebook, Twitter, Instagram, Pinterest or LinkedIn. With more than one billion active users per day around the world, having an updated Facebook page is essential to build your online presence.
The Website Builder makes it easy to update an existing Facebook page or create a new one with the information and photos of your website.
UNBEATABLE PRESENCE ON MOBILE PHONES AND TABLETS
All websites created on hPage are mobile responsive and can be viewed on any type of gadget.
The web pages created with the hPage Website builder are automatically optimized to adapt perfectly to any device.
Before publishing your site, you can use the preview feature to see exactly what your customers will see on their mobile or portable devices.
WE HELP YOU 24/7 BY PHONE OR EMAIL
hPage has a team of technical support professionals always willing to help you with your online project. If the inspiration appears at 2 in the morning, the customer support will be there for whatever you need. You can send an email or use the contact form anytime.
WHO IS USING THE HPAGE WEBSITE BUILDER?
We have seen websites built for small businesses and personal projects alike. Professional websites for experts in wine, gyms, transport companies, real estate agents and air conditioning companies. Fun and attractive sites for community choirs, clubs and band groups of the 80s.
This website creator is designed for small entrepreneurs, freelancers and anyone who has a great idea to share with the world.
Whether you are a baker, gardener or even if you sell scarves, we have the perfect solution for you. There are 2 plans available: Free and Premium. You may choose whatever you like.
It's easy to share your brand with the world using our Website builder, as well as your marketing and e-commerce tools.