How to improve food delivery app customer experience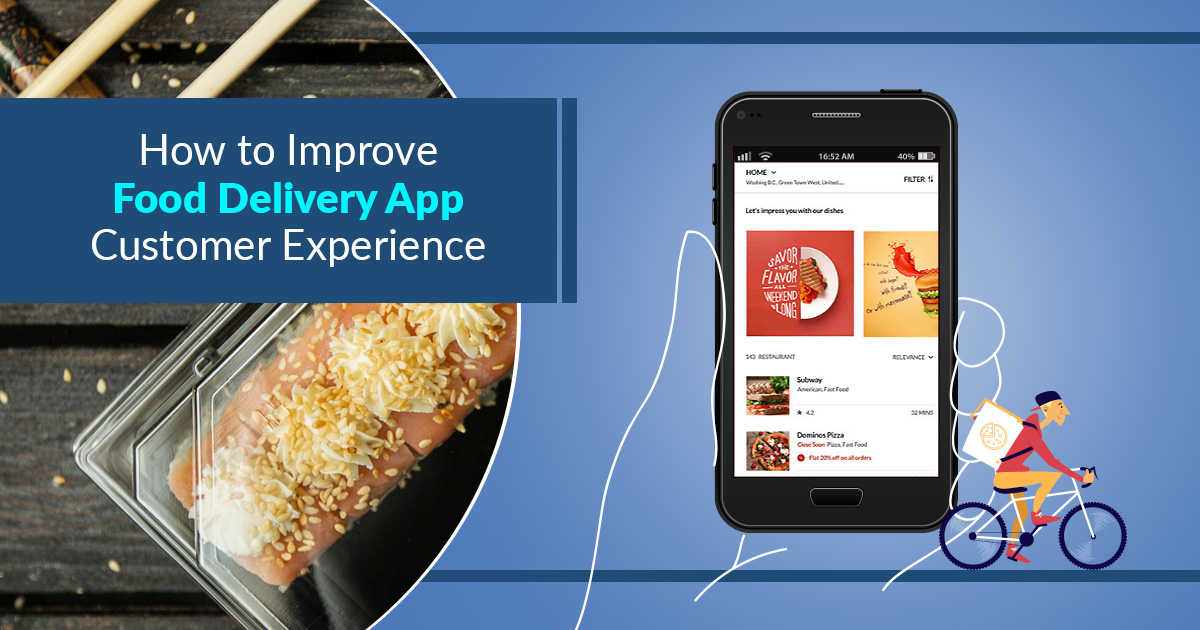 On-demand service companies value and maintain one essential quality in particular. That is the customer experience. It is a defining facet of whether a business' prospects will rise up or sink down. Not paying enough attention to the customer experience is a common reason why some services spiral out of business. In the food delivery segment, there are several factors involved in how customers rate their delivery receiving experience.

Food delivery isn't only about getting the dish from the restaurant to reach the customer, the condition in which it is delivered plays a major role in customer satisfaction. In this article, we will discuss what negatively impacts customer experience and how they can be tackled.

Review System
As several on-demand service industries are digitalizing their businesses by launching smartphone applications, they cannot evade the transparent review system of the app stores they wish to be available on. A designated section wherein users of the app are allowed to rate and review the software indicates the reliability of the application. Harboring too many negative reviews will impact how new customers approach the software. Therefore it is important to view what customers are saying about your app and act on their suggestions and complaints. Reviewing feedback helps you evaluate how your customers feel about your service.

Packable food
When restaurants get on board with food delivery apps, they often put up their full menu of items for takeaway. Although it gives customers a large variety of dishes to choose from, it can also hinder the business. There may be items on the menu that would not fare well when they are served as a takeaway. The way food and beverages are served to dine-in customers is different from the way delivery orders are served, and the lack of proper boxes or utensils to carry hot/cold food to the customer via delivery curbs customer experience. For example, soups and juices will require special cases to transport them, in turn, they incur additional delivery charges. It is vital to ensure that the food that is being catered to the customer is eligible for transportation.
https://aikdesigns.com/blog/best-pizza-places-in-karachi-pakistan-2020/

Food presentation
On-demand food delivery apps are increasingly being preferred to order food due to their ease of access. While they display images of mouth-watering dishes, neatly arranged on a plate, it can be frustrating for customers to receive the same food items in a scrambled manner. Presenting food for dine-in customers is definitely easier than presenting food to customers via delivery. Food items in transit to their destinations are bound to experience turbulence. Be it bumps, sharp turns, or any other movement, they can affect the manner in which the food is packed. The best way to tackle this problem is to use tight packaging boxes that will keep the food upright and in position at all times.

Mix up
When a customer places an order for multiple food items, it is unwise to pack similar food items together in the same box. Although it may sound like an economical option, they are bound to get mixed up during the course of delivery. Finding ingredients and food layers inappropriately jumbled up together will be distasteful to customers who keenly wait on their orders to tame their hunger pangs.

The balance
Most restaurants offer both dine-in services and cater to on-demand food delivery app requests. If the number of delivery requests exceeds what the restaurant can handle, it can pose many problems, not just to the customers who ordered using the app, but also to the restaurant's dine-in patrons. Restaurants need to ensure that they cap the number of orders they take by scheduling active delivery times. By regulating how they service delivery orders, they can ensure a smooth dining experience for their customers.

Delivery agents
When restaurants receive a multitude of delivery requests via food delivery apps, there are bound to be a lot of delivery agents standing in the restaurant's premises. Overcrowding of delivery agents can hinder people who visit the establishment for the dine-in experience. This issue can be tackled by allocating dedicated spaces that delivery agents can wait at.
Now that you know how you can maximize the customer experience with your on-demand food delivery app, you're all set to create an incredible software that will be free from the hassles mentioned above. With an UberEats clone app, you can be well on your way to launching a customer-favorite app in no time.