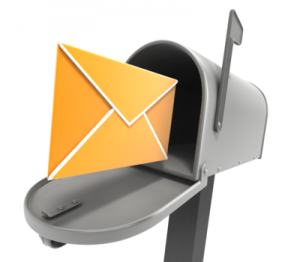 You can ponder the words you use; test the message; realign the layout; and play around with pictures and text to get the perfect marketing email to be the thing that turns prospects into customers. But, it is the words themselves that can make or break a campaign. The following is a list of ideas and tips to creating a message that does the dirty work and converts the curious to the customer.
Because email is an essential part of any businesses online marketing, there are some statistics to consider that will give some insight into the communication method itself. In 2014, there were 4.1 billion email accounts worldwide. It is predicted that in 2019, there will be 5.6 billion! Everyone will have an email account. 72% of Americans would rather communicate through email than through other forms of connection. If you put something personal in the subject line, 26% more people will open the email. 80% of people who open their emails said that grammatical and spelling errors as the thing that turns them off from responding. And then, there were the excessive punctuation, irregular fonts, and capitalized subject lines that also caused irritation. And finally, people between the ages of 45 and 64 years old liked humor in their emails.
Probably the best rule for writing content for email marketing is a rule that is perfect for lots of things. K.I.S.S. or " keep it simple and strong". Email can be easily discarded, so it is imperative that you capture your reader immediately. Don't use words that they have to look up in a dictionary and don't go on and on. Editing is your friend and your message needs to be short, concise and to the point. Write as if you were talking to a friend.
When writing and laying out the text of your email, make sure that someone can just glance at it and get your message. It needs to be scannable. Follow a logical structure. Don't write in long paragraphs. Keep them short and include one main idea per paragraph. Break them up with pictures. Use subheaders that are a different size font and are catchy. Also, use numbers or bullet points for any lists or bits of information This allows the reader to catch the major points and get the idea of your message. This type of layout also converts well to reading on cell phones or other small devices. Also, avoid all caps and multiple exclamation marks in both the subject line and in the body of the email. Capital letters is the same as shouting on the internet. Overusing capital letters or exclamation marks trigger spam markers. That can hurt your email open rate.
Writing email copy is not about you but about your client or customer. Use the word "you" more than you use the word "we or me". The focus should always be about the recipient and what you can do for them. Yes, you want them to know about your company, but keep it very simple and short. They are more interested in how your business or product can help them. Also, in your copy, write about the benefits of using your offerings. They don't want to hear about the features, they want to hear about how it makes their life easier.
The copy in your email is great, but you have to have a subject line that is going to get the receiver to open the mail. Your copy delivers on the promise of the subject line, and your email delivers on the promise of the sign up form on the landing page that they get to from the content of your email. In the subject line, clearly tell readers what to expect when they open the email and align the subject line with the headline and call to action. The subject line can be the difference between recipients opening your email, deleting it or reporting it as spam. People open emails because they think that there is a benefit for them and because you entice them with something alluring.
Keywords in your content need to be used for search engine optimization (SEO). These words need to be ones that interest your reader and boosts your website placement on search engines. But, your copy should not be just a jumble of key words. It needs to be useful and well written. Too many keywords can sound like spam so you need to choose the "right" words. Use words to stir readers' imagination, appeal to their emotions and get them to take action. Story telling techniques, analogies and sensory words that evoke the five senses. This makes them think about how they'd look and feel if they owned the product and gets their mental wheels turning. Use power words for the call to action such as You, Free, Because, Instantly and New. Use these words in your subject line, copy and call to action.
Your target market is the most important element of your email. You need to find out what people on your email list like and need and point your copy to that crowd. Tailor the email marketing message to meet their needs and solve their problems. When you know your customers, it's easy to write email marketing copy that makes them want to click. Be conversational and sound like you know the reader well. Don't be boring and stir readers' imaginations. Add personal anecdotes so that your readers imagine themselves in your shoes.
Your call to actions should be found in the subject line and be hard hitting. Calls to action are the most important part of your email marketing campaign. These get the subscribers to convert by taking action. Write one that they will find it impossible to resist. "Buy now" and "sign up today" are perfect for getting responses.Place several calls to action throughout your copy and take the reader to the landing pages set up on your website.
A sense of urgency is needed in all marketing and especially in email. Deadlines are your friend. Offer a free gift or a download for a response by a certain date. These help encourage the receiver to open the mail and take action immediately. Write the email so that people are concerned that they might miss out on something. Scarcity marketing works very well. "Limited time offer", "only 10 in stock" and "when they are gone they are gone" are all phrases that makes people respond. Use photos or picture of faces that correspond to the emotion that you want the reader to be experiencing while reading. This helps them personalize the email.
Proofreading your copy is absolutely necessary. In face, you need to proofread at least three times and then have someone else proofread too! Misspelled words, typos and inaccuracies in your email marketing copy can hurt your credibility with readers. Make sure that you test all links that you have in the email so that you know that they are working. You don't want it to go to a site that is not the right one.
In today's digital age, email is one of the easiest, cheapest, and most convenient ways to market to a broad audience. If you're wanting to reach individuals but perhaps are unsure of whether you'd like to do direct mail to people's mailboxes, we at Everest Direct Mail and Marketing can help you create a virtual mail campaign directly to people's inboxes instead. With our highly skilled copywriters, we can create interesting and attention-grabbing emails to send out to prospects. We can create a full email marketing campaign, with follow up emails and automatic response emails that lead the clients directly to you. These emails can be highly personalized with merge fields specific to the person being emailed, just like a direct mail campaign. You can hyper-target the recipients through a detailed list and set up an exact schedule these emails are to go out
[pii_email_d0d08a0a2c938c627eab]
[pii_email_37f47c404649338129d6]
[pii_email_b47d29538f12c20da426]
[pii_email_5b2bf020001f0bc2e4f3]
[pii_email_3a9d3c10845f8b9d77b2]
[pii_email_aef67573025b785e8ee2]