Shubh Mangal Zyada Saavdhan Movie Review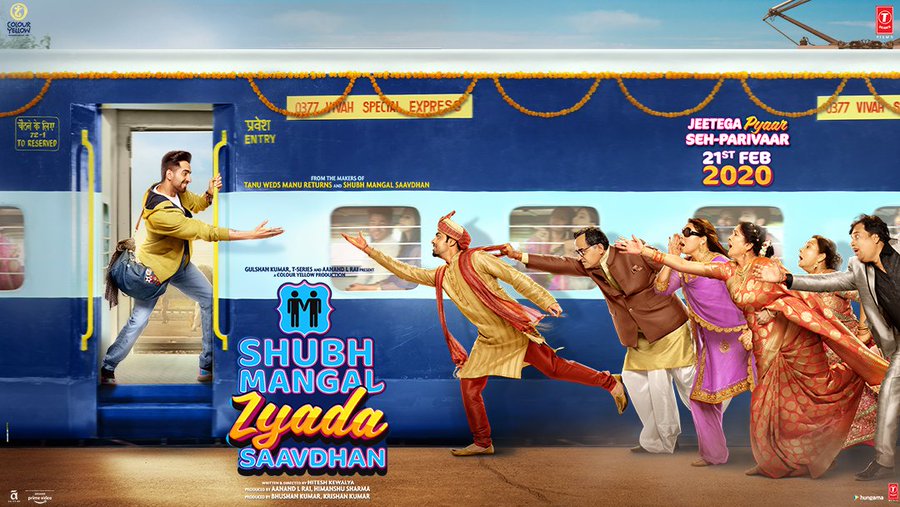 Introduction:
The movie, Shubh Mangal Zyada Saavdhan spin-off to 2017 Subh mangal saavdhan thinking that Ayushmann Khuranna's formulae of choosing versatile scripts are becoming a routine in itself, but this time does his formula worked or not?
Plot and Screenplay:
The film starts with the introduction of two characters, Karthik played by Ayushmann Khuranna, Aman played by my favorite from YouTube series kota factory, Jeetu Bhaiyya, both are genuinely in love with each other. What happens when Aman's family gets to know their son's love relationship with another man, how the two men in love face the whole family, especially the father with cheek hurting humorous and thoughtful events is the entire film. Squeezing it in one sentence, script tho hit hai boss!!!! Ayushmann surely won to choose the wise script again. Director Hitesh Kewalya builded film with simplicity, ease and genuineity. Screenplay moves with one scene causing the effect to other scenes, the movie flows interestingly rarely boring you at few points. Never at any time has the movie tried to preach anything. The film is completely unapologetic, whether it is to show the intense kissing scene between two men or the two elder couple talking about sex, the film doesn't shy away. It what it is. The way director addressed homosexuality in the film, the way jokes are cracked and the way message is slipped into your brain, spreading awareness is artistically clever.
Cast and Acting:
Let's start with Gajraj ji and Neena Gupta maam, who stands out from all others just like in Badhai ho. Everytime you see them together on screen the chemistry sparkles. Their conversations make us laugh. Specifically, the way Gajraj ji dances in his son's baraat with anger in his mind or the way he walks in frustration is all worth watching. Neena Gupta's mother slang sounds blissful too. Coming to Ayushman Khurana, karthik character is unapologetically honest and blunt. He says what he feels and always stands strong with a smile on his face. His acting like always is good. He might not impress you but he does justice to the role. Putting limelight on Jeetu, it's relaxing to watch him on-screen, the way his eyes stare Karthik, or the way he hugs him or portray the helplessness of his situations with a confused face will surely reaches you.
Supporting actors, Maanvi Gagroo as Goggle Tripathi, Aman's sister who is desperate to get married is just a mind-blowing-ly hilarious man. Chaman chacha and Champa chachi act like the stage to all the performers, they enrich the scenes, they make it more colorful and laughable to enjoy. The level of innocent idiocracy the family members incorporate to deal with the problems is what succeeds the scenes and the film. Dialogues are so witty that every small to small character appearing on screen surely tickle your funny bone. Next, Music serves well for what the movie has to offer. The film takes the help of catchy and soulful music to handle and work out complicated situations. The remix of Pyaar tenu karde gabru was my favorite until I heard the climax soulful love song, which the name of it, I don't know. What i didn't like, Ayushmann as an actor didn't impress me much. Mostly in the first half, films fall dull at few points trying to set the premise for the film. Some dialogues felt unnecessary, for example when the bhumi pednaker's special appearance speaks out of the context for a little too long. Remaining all and everything is just in the right amount to make the film work for movie-going audience.
Final verdict:
This film is no different from other Ayushmann's films except article 15 where there's a character dealing with an issue and there's a family too and at the end how he overcomes that issue is also the template here more or less. But, this works well, like badai hoo, it will sure make you laugh and keep you entertained throughout and hits your heart!! You can watch it on MovieHustle easily. Don't miss it in theaters Go with your family because it's truly a family entertainer.