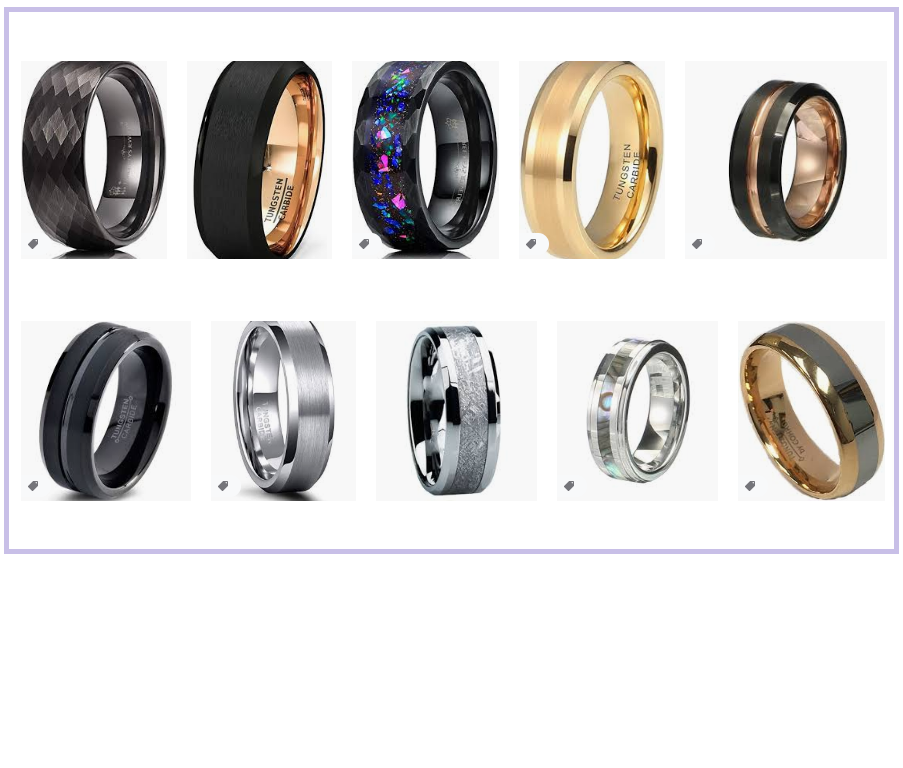 In a world where you will find endless variety in sterling silver or stainless-steel rings, buy tungsten carbide rings. If you're thinking why then we have the answers to your question. The very first reason is that this material is very strong, hence making it more durable and resistant to scratches and wetness. Secondly, the appearance of tungsten carbide is very attractive in terms of shine and has a very unique feel when you wear it. If you compare other rings with tungsten carbide, you'll notice a huge difference in the quality and designs that are made with this material. If you're looking for such rings that last a lifetime and remain the same in terms of appearance and feel since day one, then give this article a read and find yourself astonished with the beauty of tungsten carbide ringsthat are also in fashion trends right now.
Best tungsten carbide rings in trends right now:
The first one on our list is this gorgeous two-toned black and silver wedding band which is quite a popular choice amongst people getting married. The body of this tungsten band is polished with the availability of 6mm and 8mm widths. It is a perfect gift to give in weddings for couples who want something unique and out of the bubble. You can also add in an engraving of you and your partner's name to make it even more special.
Raise your hand if you love Celtic dragon designs in almost anything! This wonderful piece of an artistic wedding band is something very wild and classy in its own sense. It has a gold-plated Celtic dragon art in the center of the wedding band with a silver polished body. You have the option of getting a matching wedding band made for you and your loved one with engravings as well. Sounds just the perfect choice for a good investment in tungsten carbide rings isn't it?
Rose gold and silver brushed wedding band with a stepped edge:
The third one on our list is this dual-toned, brushed wedding band that has a stepped edge design. The inner body is made of silver, while the outer body is made of rose gold. Like every other tungsten carbide rings, you can get engravings and a couple's matching pair too. This is perfect for a modern themed wedding as it's simple and gives you a minimalistic feel.
This brilliantly crafted wedding band is something you shouldn't skip right away. Are you looking for an elegant silver tungsten band? This is just made for you as its scratch-proof, water-resistant and has a center design like a meteorite with a textured feel. Sounds like a lot in just one option yes? We would definitely recommend you to buy this wonderful wedding band to surprise your loved one.
Silver tungsten carbide rings with cubic zirconia inlaid:
If you are looking for a ring that provides you comfort and elegance at the same time, then go for this polished white tungsten carbide rings. This beautiful ring has a cubic zirconia inlay in the center which adds a lot of charm to the ring. The best part about this ring is that it fits your finger properly, so you won't have to worry about it slipping off from your finger. It also has a hard body, so it won't get easily deformed either.
The last one on our list is this beautiful black tungsten ring that surely got our hearts beating faster. As you can clearly see, it has a heartbeat rate design with an amazing stepped edge polished finish giving it just the right amounts of edginess and class. If you have found the right one in your life to forever cherish, then this would be a brilliant idea to go for and gift it as a promise ring to your lover. What more could sound romantic than gifting a ring with a heartbeat design to show your partner how your heart beats for them?
Final Thought
So, we hope that found these amazing options of tungsten carbide ringsworthy of choice for your special one. Be it a wedding ceremony, anniversary, birthday or valentine's day, we highly suggest you buy these high-quality, well-polished rings with a beautiful engraving and design that would melt your lover's heart and make them want to love you even more. Don't forget to keep your partner's choice of ring designs in mind, so that you buy just the right one for them.
Estella is a fashion lover interested in romantic weddings and jewelry, also a blogger of Find U Rings. Find U Rings (https://www.findurings.com) is a reliable online jewelry supplier designing unique wedding rings for men and women. They have been exploring the ring industry for more than ten years.