10 Things You Should Never Carry in Your Handbag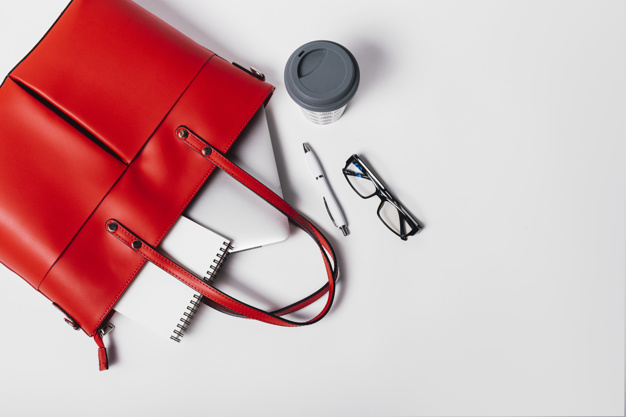 Handbags had been used for many years for carrying our essentials with us; not only that they are also used as a fashion statement and as an accessory to complete our look. A handbag well kept can stick around for a longer period of time considering that you maintain and keep them in good condition.
People carry many important things in their bag, which if stolen can be more damaging than doing anything needful, from documents to keeping perishable snacks people tend to keep things handy. Keep in mind always carry those things that are needed daily by you, rest you should carry only when needed.
Things you should never keep in your bag
Passwords
Many times, it has been seen that people tend to carry their vital information like passwords just in case they forget. Many scribble their login details or ATM pins on paper, feeling all they have to do is peek any time they require.
Store these passwords in an app on your smartphone. Though memorizing all your login details is the safest.
Debit card
Keep your cards protected by keeping them in the wallet; if these get stolen it can become a high risk for you since you can easily lose money from your account.
Laptop
If you are travelling or going to the office then carrying a laptop becomes a necessity, the weight of the laptop can put quite a strain on your body.
For keeping a laptop use a messenger bag or backpack, this will not only help you in carrying a laptop with style but will also make carrying easy, without feeling much weight.
Receipts
If you keep receipts in your bag, then you are prone to getting your identity being stolen, the thief can easily analyze your documents and get a picture of where and what you shop. In this way they can easily hack your identity, by the time you will realize the thief will be able to use your money and empty your account before you can block them.
Unprotected phone
A lot of women due to lack of pockets in their outfit, casually keep their phones in their handbag, which can cause serious damage. When you keep your phone un-protected with other things in your bag your phone screen can get hampered.
Also, leaving your phone like this can get easily stolen, or misused. Nowadays it's very easy to hack someone's phone, and we all know how our phone can carry all our information.
Try to keep your phone either in your pocket, but if you just have to keep the phone in your bag then keep it in a pocket with a zipper, always keep your phone locked with password and fingerprint.
Umbrella
Keeping an umbrella can take a lot of your bag space; also it can easily damage the bag. If you have to keep an umbrella, keep it in your car or carry in hand.
Any kind of bank documents
Keeping a document in your bag can cause you many problems; if your bag gets stolen you can easily be part of scam and fraud. Keeping a cheque book or any other document in the bag can easily give away your personal details. And this will not take much time before the money gets stolen. Carry your documents only when needed, otherwise don't carry them with you daily.
Full-size beauty products
Don't carry large-sized beauty products, like a big bottle of deodorant or hair spray. These can add strain and excess weight to your bag.
Instead, carry a portable deodorant bottle; they are small in size and easy to carry as well. Keep only the needed products that you will require every day. Like lipstick, kohl stick or face powder, keep these safe and intact in the pouch. Keeping in a pouch or organizer ensures that it doesn't get damaged or spoil your handbag.
Identity cards
If you keep your personal identification like your workplace id and in case you lose your purse your personal details can get leaked which could cause major problems. Keep an id only when you think it will be required or when you are leaving for office
Gift cards
If you end up losing your gift cards, you won't be able to get them back; these cards are used in-store only so carry them only if you are planning to use them. Apart from losing, these cards can get damaged with other things in your bag. Instead of keeping them in your purse, keep these cards in your car, as to keep them safe and readily available whenever you plan to visit the store.
Summing up
Handbags help in carrying a lot of things for us but don't keep too many things they only add extra weight to it which can become difficult to carry. They also add to physical pain, because too much weight on the shoulder can cause muscle pain.
It's recommendable that whether you use tote bags, shoulder bags, slings or satchel handbags, ensure they are not too heavy so only carry those things that are needed by you everywhere, rest you should keep in the vehicle in which you are traveling or carry only when needed.