Virtual Bookkeeping: How to Hire the Best Bookkeeper Online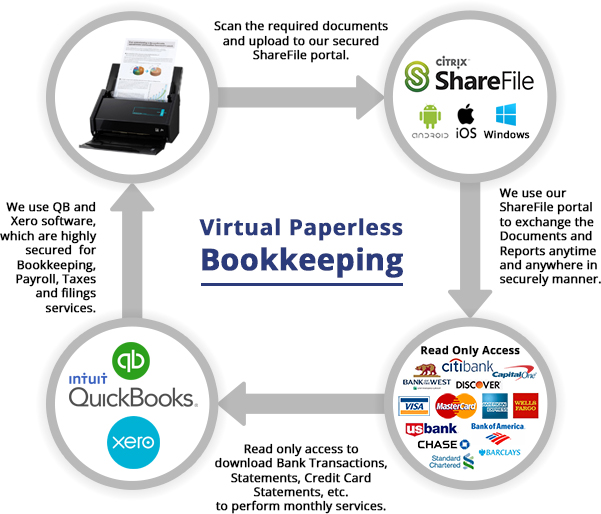 Technology has made our lives easier. From ordering your favourite food online to ordering Alexa to play your favourite song, technology is greatly influencing our day to day lives. But it isn't just the personal comfort that technology has been influencing. Technology has grown its roots deeper into every professional sector out there.
One such field which we will be discussing here is the Bookkeeping profession. Generally, known as Virtual Bookkeeping, online bookkeeping services have found themselves some fame in the outsourcing sector. But like every coin has two perspectives, infusion of technology also has its downsides. One of them being cheaters disguising themselves as professionals online. So here, we will be sharing a few tips about 'how to hire the best bookkeeper online.'
However, before we get on to the discussion, here's an overview on what is Virtual Bookkeeping
What is Virtual Bookkeeping service?
Typically, Virtual Bookkeeping refers to offering your clients online accounting services/online bookkeeping services from remote places by leveraging technology and telecommuting with the client without the need to be physically present at all times. Virtual bookkeeping offers both the client and the bookkeeper flexibility to work according to their needs as well as a cost-effective method for businesses.
Here are some benefits of outsourcing bookkeeping services by hiring a Virtual bookkeeper/ service:
Save your time that you might be spending on doing your own books
Keep your financial transaction records up-to-date on a regular basis
Make your tax season easy and efficient
Keep a track on your expenses
Use all this financial data to plan your future growth plans
How to Hire the Best Bookkeeper Online
So if you are looking for outsourcing accounting services or hiring a virtual bookkeeping service, here's how you can get the the best services online:
Identify and list down your top priorities
Before you go for a virtual bookkeeping service, make sure to list down what services you are looking for and then compare them with various online bookkeeping services. Prioritise what is that you are looking for, remember bookkeeping and accounting services may differ widely. While many online services can offer you outsource accountants as well, many will only offer you with basic bookkeeping services.
Look out for a Central Data Storage
Financial data is of the utmost importance to businesses and any discrepancy or leak of such high-value data can prove to be pretty costly. Therefore, it is very important to make sure before you decide to go for any of the outsourced online bookkeeping services that they have a centralised data storage system that keeps all the financial data in a central place where it is both safe as well as easy to access.
Do proper research before outsourcing
Even though technology has made bookkeeping easier, it has also given rise to fake service sellers who use technology to disguise themselves as experts. Do a proper research online and verify the authenticity of the service before you hand over your financial information to them.
Set up an effective training session
After you have hired one from your preferred outsourcing bookkeeping services, let them know of your priorities and expectations. Conduct a proper training session before you onboard them into your business. Ask them of their working process and set up a regular communication channel where all the doubts can be discussed easily without delaying any process.