Visiting Cyprus in the Offseason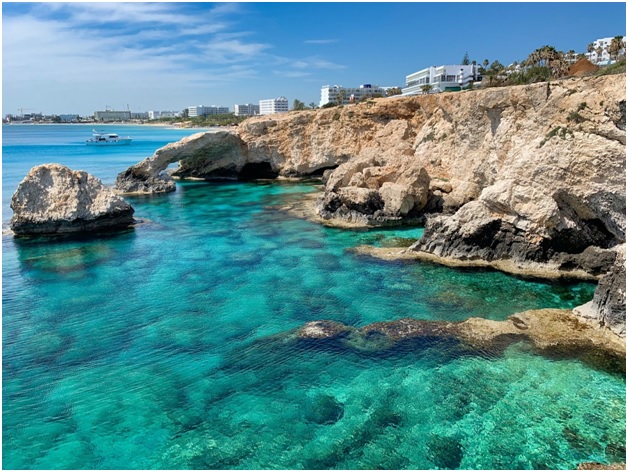 Visiting places in the offseason always gives you more insight into local life. Cyprians are especially friendly and welcoming people. Whether you want to spend just a week or two in Cyprus, or consider staying for the whole of winter, you will have a great time.
If you haven't visited Cyprus yet, you should know that the island is cut in half roughly in the middle. The northern part of the island is under Turkish power, and it is called the Turkish Republic of Northern Cyprus (TRNC). While the southern part is home to the Republic of Cyprus.
There is also a buffer zone called the Green Line between the two countries which was created by the United Nations.
This means that if you want to cross from one part to the other, you have to have your passport at hand. Despite the divided island, Cyprus has remained a safe place for tourists and expats.
There is a wider selection of shopping and entertainment in the South, while the North is richer in natural beauty.
This article is detailing the Republic of Cyprus area only.
If you want to make an escape from dealing with difficult coworkersto relaxing, sunny Cyprus, here is your guide on how to go about it.
Summer vs. Winter
Cyprus is a popular choice among holidaymakers because it offers everything you might desire. There is a wide selection of beautiful beaches, affordable holiday rentals, good food, and a busy nightlife.
But during the summer season, there are also crowds everywhere, traffic jams, and noise.
It is generally believed that there is not much you can do in the winter in Cyprus. However, that is not entirely true.
Yes, you can't have beach days on end, and it is not the best time to work on your tan. Also, if the main reason for your visit would be the endless all-night parties, you should visit the island in the summer season.
But if you visit during the winter, you will find cheaper accommodation deals, cooler weather, and villages and cities that are occupied predominantly by locals. It is relaxing not having to deal with tourist crowds.
The off-season means that fewer eating and drinking places are open. So, unless you are staying in an all-inclusive hotel, chances are you want to explore a supermarket.
This, however, is your chance to shine and make that moussaka yourself.
But don't worry, in the bigger towns there will always be restaurants open, in Paphos especially.
Wintertime is great to explore cultural and historical sites with lower admission fees, and fewer tourists. You can enjoy your time exploring Paphos Castle, Kourionn, and the Tombs of the Kings.
The sea is ever so beautiful during winter, it glimmers in all shades of green, turquoise, and blue. When you visit the beaches there is a high chance that you can get your hands on free sun loungers.
No one gathers the beds, but it isn't worth the companies to have someone collect the fee as there are not enough tourists.
The island is small enough to explore in a relatively short space of time, approximately 2 weeks.
It is best to travel around the island and explore a bit of everything. Once you experience the casual Cyprian way of life, take home the team motivators' ideas to inspire your colleagues.
Getting Around in Cyprus
Paphos is the capital city of the Republic of Cyprus. If you only visit Paphos during your stay, you can manage on foot and an occasional bus ride.
There are buses in Cyprus that can take you to other cities or villages. However, if you are planning a multi-city trip, bear in mind that the bus system is not very advanced.
The frequency of the buses can be poor, and you will find that most buses go twice a day.
Renting a car in Cyprus is easy and driving in the off-season is not as hectic. Of course, there are morning and afternoon peak times on the roads, but generally, everything is quieter compared to big cities.
Having a rental car gives you the freedom of visiting remote sights and beaches which would otherwise not be possible.
Also, as there is a reduced number of bars and restaurants open, you will need to do shopping as usual, which is easier by car.
The three bigger places, Paphos, Limassol, and Aya Napa are great places to book your stay. From there, do day trips to the smaller villages and sights to get the full experience.
Another great thing about winter in Cyprus is the citrus season. From November onwards, you will see orange, lemon, and lime trees full of fruit.
You can buy them in supermarkets, but it is recommended to choose small fruit shops or visit the Saturday street markets. Kindly ask for information about the market from a local and they will be happy to help.
Autumn and Winter Weather in Cyprus
Heat is still around 30oC in September, perfect for beach days and long dinners sitting outside in a taverna.
In October the daytime weather is still warm, on average 27oC, but the cooler evenings are signaling the end of summer. The weather is still suitable for swimming, sunbathing, and other beach activities.
November in Cyprus is still mild, but you can definitely notice that the weather is turning cold. Rainy days are getting more frequent, but you can have the odd beach day as daytime weather reaches 23-24oC nearer the coast.
Although the number of sunny hours is still high on average, it still gets dark earlier, the sun goes down at 5 pm.
Inland temperatures are cooling down, 10oC during the day and 6oC during the night.
December temperatures vary between 15-25oC during the day and 5-15oC during the night. The number of rainy days is increasing, and it can get gloomy.
December is a great month for hiking and visiting cultural and historical sites. Just don't forget your raincoat, the weather is sometimes unpredictable.
During the mornings and evenings, you will need a jumper and a light jacket, and you might want to turn the heating on.
If you are lucky to catch a clear sunny day, you can visit the beach and sunbathe. The water temperature is not warm, but people still go for a refreshing swim.
January is the coldest and wettest month with an average of 17oC during the day. Some days might be unexpectedly warm, 23oC, but other days will be cold with storms, there is even snow in the mountains.
The coastal towns of Paphos, Limassol, Larnaca, and Ayia Napa are usually warmer, while the weather in the Troodos Mountains and Nicosia is colder, temperatures range between 5-15oC.
You can also ski in the Troodos Mountains in January, there are 4km of slopes available, situated between 1731 and 1951 meters high.
And the best is yet to come because in January the most exotic guests pay a visit to the island. Thousands of pink flamingos gather on the salt lakes of Larnaca and Limassol.
It is an absolutely fascinating sight when these graceful birds march on the lake. This is one of the inspirations for people to travel to Cyprus this time of the year.