WEAR THE "STRETCHY WRAP" TO BE THE ACTIVE FATHER FOR YOUR NEWBORN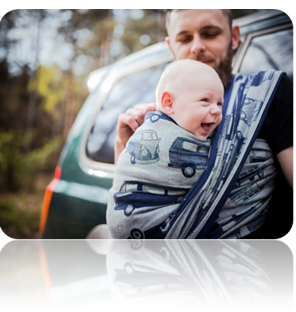 Welcoming a newborn in life is one of the most beautiful gestures. That any parent can ever phase in life after going completing that adoring 9 months. Once they see their babies face and hold them into the arms, every pain and wait that they have done gets ultimately vanishes.
However, the main question is that it's only a mother responsibility to deal with all the soreness and burden. No, the father needs to pay the equal role, and he is to give his 50% duty for the child. Not all the time, the mother can carry the baby sometimes they father needs to hold the charge.
He should wear the stretchy wrap and hold the child close to their child. By this way, the baby will keep getting the warm and love which is pleasant.
UNDERSTAND YOUR CALL AS A FATHER
Not every time the mother can carry the baby after all she is given birth. And her body needs full rest and care and don't forget the love part. After she is the one who is going to feed the baby is she won't have the power, then how can it be possible.
It is one of the main reasons that a father should understand their duty and be active all the time. Now for the new parents who don't know what a stretchy wrap is and can the father also use it easily. Then let us clear all the doubts from your mind.
How stretchy wrap works for baby and parents
A stretchy wrap is a super smooth fabric, or you can even say a piece of cloth that can be easily tied around your chest. It gives your baby a comfort that they can feel the warmth and also stay close. In usual terms, you can say that it is a piece of sweater style elastic fabric that is almost 4 and 5 meters long.
It creates a cosy pocket for the baby can help so that they can feel they are still inside your body. Depending on the quality of the material, the stretchy wrap can be more often than not used up to use for six months baby.
A father needs to hold the baby with a free mind
Now you must have got an idea of what stretchy wrap and let us tell you one more thing. It is not written any wear that only a mother can wear it daily. Even the father can use it and carry the baby. By this way, they can even also feel close to their child and take their sweet fragrance.
Else, when it comes to the cost of it then let us tell you it's not that much expensive, and you can easily purchase. Besides that, it can be possible that you are current financial condition is not as good. And now your baby has arrived, and for the pure soul, you wanted to create the best environment.
Without any stress and worry, you can create peaceful surroundings for the house. To give your child all the happy vibes that is needed for a baby by taking the borrowing help. It is so easy to do so with the help of very bad credit loans with no guarantor and no broker required. By this, you can pay off all the pending bills and payments that are giving you a big-time strain.
Wear the stretchy wrap and adore your child
Once the funding issue gets clear, then you can focus on your child entirely and give them love and care. That being a father, you need to do so that the mother can also have some free time.
To become a father is easy, but you also need to understand the duties that are waiting for you after having a loving soul in life. If you are still, thinking that only a mother is having all the responsibilities to full fill with the entire child, then you're mistaken. It is because you are equally responsible and you need to have this in mind. Even you must be aware of the basic terms that are mostly in trend these days. Now no woman says that I AM PREGNANT, it is completely changed. And now everyone ways, as a couple both going to be "mother and father' that "WE ARE PREGNANT". It is so beautiful, and it also shows how much connect you are to the soul who is going to join your family. That is why if you are parenting no matter, whether you are a mother or father, you need to be familiar with your call.