Why Red Halloween Contact Lenses Should Be Your Choice For Halloween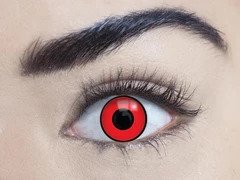 Get your Halloween costume ready and shining with some amazing Halloween contact lenses. This is one festival which never gets dull, every year you get to try something new. You get to witness so many colours and interesting costumes that the fun never ends in Halloween.
With you we are also waiting for Halloween as the most awaited party of Halloween is going to be something spectacular. I don't know about you, but the wait is killing me. We are hoping and we know that this year too we are going to see some really inspiring costumes just like last year. We also know for a fact that even this year Red contact lenses are going to be the most popular choice. The red contact lenses have always been favourite and we don't see it changing anytime soon. Their popularity is so great that it gets pretty difficult for online stores and retailers to fulfil every order.
Why Red Halloween Lenses Are So Amazing?
We get asked this all the time that red contacts look too mainstream and they are not that flashy. You may be right but have you ever tried them on? Or have you ever seen how wearing all red contacts give you the perfect look for every different horror costume?
That is why we have decided to show those who have never tried red contact lenses what a great choice they are for Halloween.
Why wear Red lenses?
The best thing about red Halloween contact lenses is that it is great for a number of Halloween costumes such as goblins, zombies, vampires, ghosts, ghouls, werewolves and wild beast. There are different shades and designs available in red Halloween contact lenses and with the right choice you can pretty much win every horror costume competition.
The Red contact lenses are the most widely used contacts for TV shows characters and movies, you must have seen Bran Stark in Game of Thrones red eyes when he uses his "vision" and also when Arya Start went blind.
There are many other costume options available with red Halloween contact lenses, one of which is the popular zombie costume or the undead army from the underworld. These red contact lenses have also provided great inspiring vampire costumes.
Below we are going to provide you with some of the best Halloween costume inspiration with red contact lenses and also how you can wear them safely.
The Best Costume Inspirations For Red Halloween Contact Lenses
We are aware that you are still wondering about wearing red contact lenses or not. That is why we have crafted up a list of some inspiring costumes made amazing with red Halloween contact lenses. We believe that these costume ideas for 2019 will blow you away.
Halloween top tips
We think Halloween 2019 will show us the famous grip reaper and skeleton costume, This is where you can cause that chilling sensation with red contact lenses where the watchers will watch in horror as your Halloween costume comes to life with those red eyes coming out from the holes of the skull.
Also, Check the best outdoor laser lights
The other great Halloween costume idea is that the popular zombie outfit. Now we know that we will see a lot more zombie costumes in 2019 but why not stand out among the rest? You can wear some worn-out clothes, some red makeup on the face and a blood splash on the mouth and near the eyes. But, you will get the costume to life with those red Halloween contact lenses. It will really get your costume party started and you will become the centre of attention.
With IT clown making a comeback in 2019 you can say that the scary clown costume is on the cards, you can go from being creepy to nerve-wracking scary with just the use of Red contact lenses.
Do you know the exorcist girl? Well, you can say that costume is still around in 2019. You ladies out there should get a messed up wig and an old red nightgown with some fake blood sprouting out from your mouth. But to really get the move going you must put on those red contact lenses. Believe me, even after so many decades you will not fail to cause some screams
The great thing about red contact lenses is that you can get yourself ready for Halloween even on the last day. The variety of costume ideas which accompany these popular coloured lenses is amazing. You can just put some red paint on your face and wear old worn-out clothes with these lenses and you will be ready for Halloween in just a few hours.
Wear them safely
Halloween may be all about having fun, joking around and asking some candy. But your Halloween could literally become a nightmare if you are not careful with your Halloween contact lenses. You must follow these steps
· Always buy quality lenses from trusted dealers and reputable online stores
· Never share your contact lenses with anyone, whether friend or family.
· Always put your lenses after applying the makeup and take them off immediately after coming home from the party i.e. before washing the makeup
· Don't ever sleep with your crazy contacts on your eyes.
· If you feel any irritation or pain immediately take off your lenses.
· If you feel anything wrong, then quickly consult the doctor.
Make sure you are following these rules. Do not compromise on the safety of your eyes, stay safe and enjoy Halloween.