From Casual player to addicted player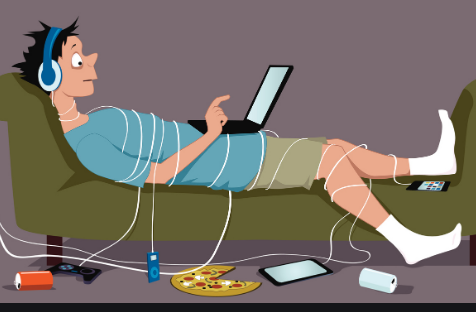 Experts have long argued if playing video games obsessively is a form of addiction and the answer is yes
It was classified as addiction back in 2018 by World health organization (WHO). Commonly referred as Gaming disorder, it is the form of addiction where a person spends player vast amounts of time on video games.
"I didn't always even hear the alarm clock"
Niklas (name changed) has been unemployed for the past few years and has been a gamer all his life. "I studied for a year in college before I was finally kicked out. During the year, I accumulated twenty credits. Many times when I was supposed to wake up at school in the morning, I didn't always even hear the alarm clock and slept well into the morning, "says Niklas.
In addition he is diagnosed as depressive and mild ADHD in secondary school.
"Playing was initially a way to get away from feeling bad. When you are allowed to be a hero in an interesting world, in an interesting company, that bad feeling is hard to notice. In the end, it's familiar and safe to get back to the real world. "
When does a person go from just another player to an addicted player?
A video game becomes a disorder when people sacrifice their jobs, social relationships, and end up playing about 60 hours a week. In children and adolescents, threats to parents may increase when play time is limited or controlled.
A gambling disorder is defined as a behavior in which video gaming cannot be controlled by prioritizing gaming over other activities of daily life and leaving other activities aside despite the negative effects.
When a problem is severe and can be diagnosed. The behavior associated with it must be highly detrimental to personal, family, work, or school success and must continue for about a year.
The symptoms are variable
A person plays repeatedly and often compulsively, is unable to properly control the time spent playing. At some point, gaming will become a person's top priority. Mandatory obligations such as work and school remain in the background.
When you cannot play, a person may experience irritability, sadness, or suddenness. At the same time, one thinks a lot about the next game session and it is difficult to focus on the current activity. It is also very difficult to stop playing and long game sessions often go into the wee hours of the morning. Excessive gambling also makes a person feel guilty and remorseful.
In Asia, several countries such as Thailand and South Korea have reported cases of people dying at the end of long gaming sessions.
Moreover it can affect your financial situation. Players really obsessed with video games are known to spend large sums of money on virtual in-game items, with no real world value. There are several examples of people who spent their entire paychecks on gold in world of Warcraft or bought nhl hut coins in large numbers.
Video games are the most productive form of entertainment
Video games are today the most popular entertainment the world has to offer. According to the news agency Reuters, video games generated more revenue than TV, movies or music in 2018.
Thanks to the popularity of mobile games, more than a billion people play some game every day. Considering game consoles, all the individual developers, game equipment manufacturers and highly popular esports. It is no wonder why video games are such a productive industry.
Esports alone was estimated to generate more than $ 947 million in 2020 and its revenues have risen steadily. In 2012, esports was estimated to generate $ 130 million.
Help with addiction
Playing and succeeding in it produces a great pleasure, so you can easily stick to it. If gambling is a nuisance, you should either stop it altogether, or at least reduce it considerably. The time spent playing should be scheduled and the exact playing times defined.
It is also important to take steady breaks while playing. After an hour of play, it's a good idea to take a break for about a quarter.