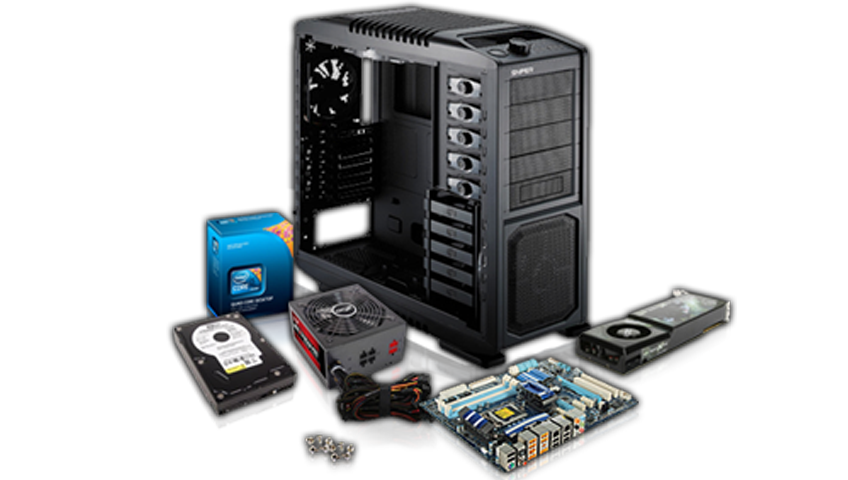 Technology can be complicated, but understanding exactly what you are buying is vital to the customer experience. You want tech that will last, and by choosing your specifications through a PC Builder, as many outlets (such as Lenovo) use, you can know you are getting what you need from your device. Many sites use these online PC builders but don't explain exactly what you are choosing. Below, you will find explanations on everything you'll need to choose when you budget for a powerful laptop.
Processor
Your processor is the backbone of your laptop's performance. The processor decides which functions should be allocated the most resources and is responsible for running those functions. Through a processor's cores, it can multitask, allocating different cores to different tasks. This enables your laptop to keep speed when under processing stress (like encoding a video or installing a program).
Essentially, you want as many cores as possible for a system that you know will be performing multiple tasks at once or tasks that involve multiple cores, like games or video editing.
Operating System and Language
Just like the processor is the hardware backbone of the system, the operating system is the software backbone. The operating system will likely be Windows, the most widely used OS, and one that accounts for huge amounts of programs and installations. You will be able to choose between a standard or Pro licence, and the language of the installation.
Windows Pro adds some encryption functions and a lot of business features (like using the system as a till/checkout for your business). For a normal user, Pro will not be needed, but you can find the list of differences here regardless.
Microsoft Software
With your installation of Windows, a good provider will offer to install and register software, like Microsoft 365, Microsoft Office, Adobe Acrobat, and more. These are all functions you can just as easily set up yourself later (for the price of the service, of course). If you know you will be word processing, then Office and 365 licences are almost essential, unless you have your service already and are planning to move it to your new system.
All the options below can be found in the Lenovo ThinkPad L Series PC Builder, which offers customization on almost every single model in the series. Follow the PC Builder and each section will be explained there.
Memory
Not to be confused with "Storage" or your "Drive", memory refers to RAM, a specific type of memory that enables your PC to maintain information for immediate use. It is your PC's short-term memory. More RAM enables programs to run faster, even when being minimized, paused, closed, or otherwise interrupted. RAM stores all that recent data, so reloading the same program is much faster next time. This is particularly useful for video editing or browsing vast amounts of tabs online, and gaming.
Storage Drive
This is the main storage of your system and will be either a Hard Drive (HDD) or a Solid-State Drive (SSD). Nowadays, it will almost certainly be an SSD, as they are faster, more quickly read/writable, and take up less physical space, despite having the same or more storage than an HDD. To ensure you have enough storage that your PC can have everything on it all at once, most people will opt for a Terabyte (TB) drive. However, a mid-range size, like 512GB, will manage everything a casual user needs. Video files, games, uncompressed music, and downloaded media will take up the most space, whereas word documents and such will not. Decide your storage amount based on your projected use.
Display
To interact with your laptop, you need a display. The screen, monitor, or display is vital for ensuring clarity in its use. The size will be decided by the model of the laptop, but there will sometimes be the option to add touchscreen functions, special brightness options, or more. In these cases, you must again think of the laptop's projected use. Most users will benefit at least partially from a touchscreen, and choosing a screen with proper contrast/brightness capabilities is important for using the PC out in the sun.
Graphics Card
Most laptops will come with what's called an "integrated" graphics card. This means the card isn't a separate part that can be switched out like a drive or RAM. Instead, the integrated graphics are designed to give you the best average for viewing and producing images and videos. If you are getting a gaming laptop or are using the system for heavy amounts of editing and encoding, you will want a system with a dedicated graphics card slot rather than integrated graphics. For everyone else, integrated graphics are designed to process all the usual tasks that involve video and animation.
Camera
Once again a hardware choice, the cameras available will usually be a matter of resolution and color clarity. For example, a 1080p camera will shoot at a higher resolution than a 720p one. Furthermore, an RGB camera will shoot in a less varied color than an FHD one. There isn't too much to weigh up here, and camera specifications should be easy to choose between based on your use of the camera.
Peripherals
The term peripherals refers to all those extra little pieces of tech that expand the functionality of the device or enable you to interact with it. Things like headphones, keyboards, mice, and such. It can also include things like extra ports. For example, you may want an SD card port, a fingerprint scanner, or a smart card reader. These additional inputs are very contextual, but improve how streamlined and secure your work process is.