Unique Cake Flavors 2021
Vanilla, butterscotch, chocolates are the flavors we always heard of, we had no hard feelings about them. Of course, they are delicious and no flavor can beat them easily. We are living in 2021 where people are trying Cheetos with milk and a cake with soy sauce. Sounds weird, huh, but they surprisingly taste delicious.  Let's see popular and trendy cake flavors to try on your special one's Designer Cakes for birthday or on other celebrations to surprise your people.
1.Key Lime Cake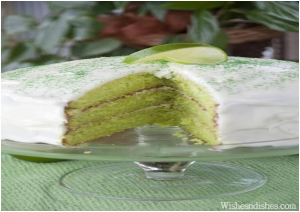 Citrus is a flavor that makes everyone fall in love with it easily. You are going to love this cake if you taste this delightful cake once. Here the key ingredient that makes this cake super flavourful is that you don't need to utilize fresh Key Limes you can simply utilize and add normal old limes that even work super fine. Either you add normal limes or Key Limes you are going to love this cake anyhow. Your key lime cake is just baked with essential cake ingredients with the flavor of tangy lime zest and juice. This cake is going to surprise your guest or even your loved ones every season.
2. Salted Caramel Cake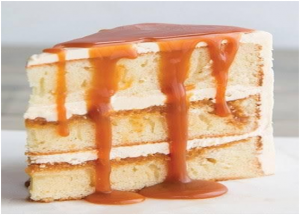 Do you have those people who love caramel to the fullest then this caramel cake is such a best and the perfect cake for them? Yummy and creamy caramel sauce is utilized and topped over the cake frosting, layers, and as a drip. This cake isn't just a perfect and smooth cake that has pure combed sides. Caramel can be super delicious to have more on the cake but look for just the right consistency to drip from the top to try bottom that might create a hectic mess.
Caramel sauce in this cake is such a pure form of joy that is added to each component of your cake. It's in between the cake layers,  frosting, as creamy dripping all over your cake that make it a pure decadence for caramel lovers.
3. Rose Petal Cake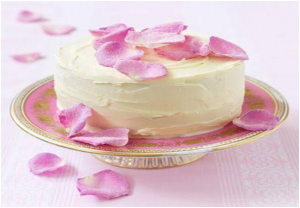 Rose petal cake is unique to all other normal recipes that call for flavourful rose petal cake for your unique celebrations if you want it to be different.  You can even swap rose water with orange water. Orange Water and  Rosewater are mainly utilized in  Middle Eastern pastries. Each variation of roses is edible, where every one of them provides a different floral and sweet flavor. Rose petals favors both strawberry and green apple flavor along with a smooth scent which is the best improvement to the cake.  So,  adding roses and more other edible flowers to the cake offers a delicate and surprising flavor that you will love for sure. Rose petals cake is popular to infuse flavor in the cake yet they taste like floral and earthy and a slight sweetness.
4. Champagne Cake With Strawberry Buttercream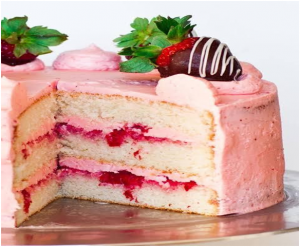 We introduce you to the super foamy and light white cake layers that are smoothly layered by fresh and delicate strawberry frosting that give the best confection for all your celebrations or on special days when you like to have something sweet. This extraordinary and elegant strawberry champagne cake surely captured everyone and we are sure that you are going to love the flavor if you tasted it.
This pink-colored champagne cake is baked by delicate and soft champagne-flavored cake layers along with yummy icing of tangy and sweet strawberry buttercream!
5. Naked Tiramisu Layer Cake
Tiramisu in the delicate layer cake form! It got a moist, fluffy, and smooth sponge that is well soaked in liqueur, brandy, and coffee mixture. You could even add the more sweetened coffee mix to get cake rather than using alcohol.
Within every layer of this cake be layered by sweet and custard-like mascarpone filling spiced up with more coffee or brandy. The whole cake looks and tastes like a foamy Swiss buttercream along with a rich addition of espresso. You can easily decorate this cake with chocolate-coated espresso beans or can simply dust cocoa powder too.
6. Coffee And Cream Cake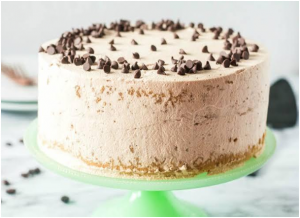 Many delicious layers of coffee-baked sponge cake rolled over a smooth mocha whipped cream which makes this cake a pure delight for every coffee lover out there. A pure delight of cream sponge and coffee make this dessert more flavorful which is a definite way to impress your people and taste buds.
This cake sponge is blended with rich coffee and layered with a fluffy mocha whipped cream frosting which can truly become a cake that you want to stop with just a single bite.  This cake recalls the moments of you having a coffee in a huge mug but here you find it is a form of cake. A cake that feels as grown up, which isn't that frilly or overly sweet.  The perfect quantity of smooth whipped cream and coffee brings your flavor altogether.
7. Chocolate Orange Citrus Cake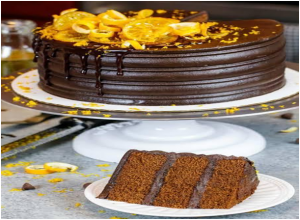 Citrus flavored orange and chocolate are such a perfect blend for the best flavoring that will perfectly hold in the cake layers. Just think about a situation here, think that you are having a scrumptious rich chocolate cake. So when you are enjoying it happily how good you feel if you get that tangy-sweet flavor through the fresh orange juice and zest. It just smells very flavorful and remarkable that definitely tastes so yummy.
A decadent and super moist easy-to-bake cake! Where that chocolate orange layer cake on the cake make your cake shines very fancy. This cake is made of layers of chocolate cake as this cake is super moist and it gets moister and flavourful by the delicious orange syrup which gets brushed on every layer. Here the orange buttercream is spiced up with orange oil and zest and you can also use orange extract.
Thinking to surprise your loved ones taste buds then visit Faridabadcake and order a cake that is dipped in rich, quality, and elegant flavors in vanilla, strawberry, blueberry, red velvet, chocolate, butterscotch, and much more trendy flavors. Their cakes are varied within flavors, layers, sizes, and more. Personalize your cake as you like. By using their hassle-free delivery services you can send this cake to the doorsteps of your loved ones at midnight or within just a few hours. Get a cake from Faridabad Cake and enjoy the pure flavors of their scrumptious cake assortments.