Oxi. X Thermal Processes – A giant leap in containing industrial pollution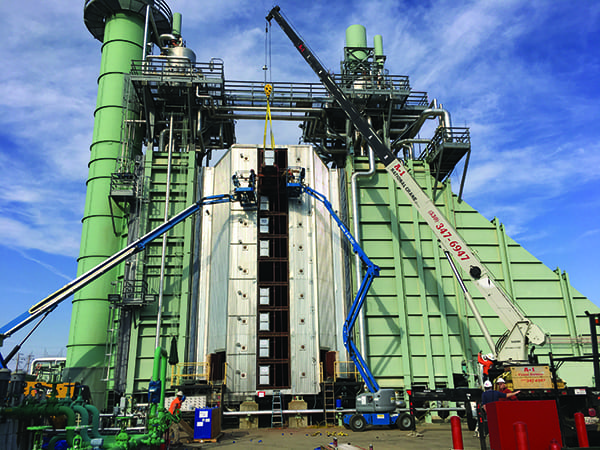 Air quality of India has been degrading at an alarming rate from the past few years. Industrial production plays a very vital role in contributing to this cause. The Government of India has come up with various regulations to curb this growing problem. As a result, there is widespread awareness about this problem, and the industry understands its responsibility towards the people and the environment. The enterprises have started working towards controlling the ever-increasing air pollution issue in India.
Dürr is committed to helping them in achieving this goal. Dürr has a wide variety of systems that allows these industries with air pollution control. One of those systems involves the use of thermal processes. This system can be easily customized according to the customers' requirements.
A thermal process treats the polluted air using a simple but effective separation technique. It involves combustion in which the pollutant is removed from the exhaust air. In all cases, if a pollutant cannot be collected for potential re-use respectively, then it is recovered, followed by which all these VOCs have to be destroyed. This system converts contaminants in the exhaust air into a non-hazardous substance at a specific temperature.
Operating Principle of the Thermal Process
The only condition on which thermal oxidation can be used is when the pollutants present in the air are flammable. During this, the impurities from the exhaust air can vary in their form. They may occur as mist, steam, or gas. A supply of energy is used to form a mixture of air and one or more flammable pollutants. After the mix is ready, the exhaust air is heated to a high temperature that the hydrocarbon molecules break down and combine with oxygen to produce steam and carbon dioxide.
Many industries prefer this air pollution control system because it involves various variants, suitable for several other applications. Dürr's thermal oxidizers are made in such a manner that they support both high and low volumes of airflow and deliver high thermal and destruction efficiencies for VOC abatement. Furthermore, the system can be modified according to the need. For example, unique compact designs or a system that can function in the auto thermal mode can be developed so that no external energy is required to clean the exhaust air.
Different system variants – Thermal Processes
Depending on the pre-heating method used, the thermal process can be divided into 2 basic groups – either recuperative or regenerative.
Oxi.X TR – Recuperative Thermal Oxidizer
Recuperative thermal air pollution control systems (Oxi.X TR) work best with high concentrations of organic pollutants in the exhaust air. TheOxi.X TR is highly flexible as it consists of an adjustable heat exchanger which helps in reducing the energy consumption by 15%.
This results in lowered capital expenditure.
Oxi.X DF – Direct-fired Oxidizer
It is a particular variant that deals with the combustion of only a handful of critical substances, such as explosives, toxic, and carcinogenic pollutants.
Oxi.X Regenerative Thermal Oxidizers
The Oxi.X regenerative thermal oxidation systems (RTO) do not go through the same problem. In this method, the exhaust air gets pre-heated by combustion energy. That is why no external power is consumed for the burner, thus allowing the system to operate in auto thermal mode and making the oxidizer highly efficient. The regenerative thermal oxidizer can give a purification level of over 99.8%.
Oxi.X Burner System
With a complete air pollution control system for all kinds of industries in India, Dürr also provides machinery to upgrade the existing systems. In addition, Dürr offers a whole range of Oxi.X Burner systems as each burner has a specific property and function that makes it unique.
Dürr aims to cover all the possible requirements and provide their customers with the ideal addition to their thermal oxidizer systems.