Unique And Exciting Ideas For Modified Shipping Containers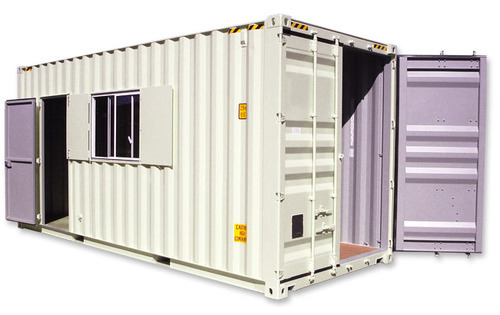 It seems the world is finding new ideas for shipping container modifications every year.  From schools to swimming pools, here are some of the most unique and exciting ideas for repurposed shipping containers.
Practical Education
Because shipping containers offer a modular building material, they can speed up the building process and in turn, reduce cost. Finding cost-effective ways to build schools has found many areas of the world looking at shipping container modifications. They provide affordable classrooms ideal for third-world countries where building costs are prohibitive. They are ideal for smaller, remote areas and hot climates where solar panels can be used to reduce the need for electricity.
Spanning Spaces
In Israel, a 525-foot long shipping container bridge leads to and from Ariel Sharon National Park. The bridge makes an imposing structure and includes windows and lookout points.
Improving Health and Wellness
Shipping containers are being used by many cities around the world to create mobile health and wellness units. The shipping container modifications take the perfectly sized units, customize them with the required fixtures and create portable offices that can be used to deliver varying healthcare services throughout different communities. The clinics can also be permanent structures.
Portable, Higher End Washrooms
The days of Johnny on the Spots have come to an end. Higher-end portable washrooms offer multiple units making them a popular choice in many countries around the world. They can be used for higher-end outdoor events, while also accommodating more people at large gatherings such as concerts and events.
Shoppers' Embrace Pop-up Stores
With the pop-up becoming all the rage, retailers are using containers to create small outlets that can travel from site to site. However, they are also being used in unique ways indoors as well in larger-scale malls.
Serving Up Local Favourites
An affordable option for chefs, the shipping container modification is changing the idea of the food truck. As a semi-permanent solution, they allow for pop-up restaurants, or as permanent buildings, they make ideal cafés, bistros, bars, and small-scale restaurants.
Multi-unit Affordable Housing
From army bases to university dorms, modified shipping containers are an ideal affordable housing solution. Because they are easy to add on to, they are ideal for universities and army bases where even smaller spaces allow for the units to be securely built upwards by stacking them.
Farm Functions
Shipping container modifications offer many applications on farms from storage to garages and from barns to shelters for livestock. They are windproof and airtight so they are the perfect solution for wide-open spaces such as the fields of a farm or ranch.
Strictly Business Offices
Commercial space is expensive, but shipping container modification companies offer customized shipping containers as a very adaptable, comfortable office solution. From mobile units for construction sites to permanent office low rises, the shipping container can be both practical and ultra-edgy.
Ready-Made Swimming Pools
The size and depth of shipping containers make them easy to create affordable sunken swimming pools.
Shipping container modifications offer endless possibilities and an affordable building material ready to adapt to your needs.