Eid Mubarak SMS Messages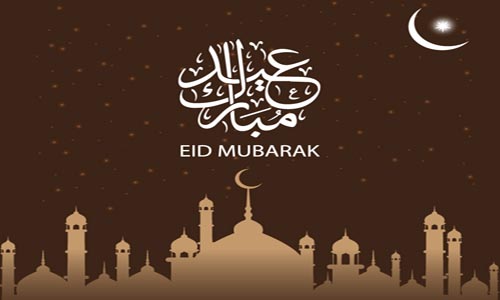 Eid Mubarak - SMS Collection
Sada haste raho jaise haste hain phool,
Duniya ki sare gham tumhe jaye bhool,
Charo taraf phalao khushion ka geet,
Eisi ummid ka sath Yaar tumhe...MUBARAK ho EID

A cool Eid Mubarak Wish
Wishing U a Very Very "HAPPY EID MUBARIK" Wid Luv And Best Wishes.
May That Eid Day Brings LOT of Happiness And JOYS in ur LIFE.
May u Live Long...
And That EID day Will comes in UR life Hundrad Times...
Remember me in ur prayers.

Eid mubarak SMS for special/best friend
Hum app ki yaad main udas hain,
Bas app se milnay ki aas hain,
Chahe dost kitnay hi kyon na ho,
Mere liye to app hi sab se khas hain.
Eid Mubarak To My Cute, Sweet and Special Friend.

A Nice Eid SMS Greetings
Hope Love and Laugher, warmth, wishes, joy and a bouquet of Eid wishes, jubilations,
become a part of your Eid and Your Life.
Eid Mubarak.

Miss you on Eid
Lonesome without u,
Each n every moments.
When i am alone
I close my eyes n think of u
N thoughts of ur love warms
Inside me n makes me smile.
miss you a lot.
eid mubarak.

A cool & cute Eid sms
Suraj ki kirne, taaron ki bahaar..
Chand ki chandni, apno ka pyaar..
Har ghadi ho khushaal..
ussi tarhan Mubarak ho aapko Eid ka yeh tyohaar!" EID MUBARAK"

Morning Eid Mubarak SMS in urdu/hindi
Subeh Subeh uth ke ho jawo Fresh,
Pehenlo aj sobse aacha sa koi Dress,
Doston ka sath aab chalo Ghumne,
Eid Mubarak Karo sabko jo aaye Samne.
Tumko bhi EID MUBARAK

Eid Mubarak Message in urdu/hindi
EID MUBARAK ho Aapko,
Dher sari tarif aur khusiya mile aapko,
But, Jab EIDI mile aapko to Please....
Aap Yaad karna Sirf Humko!!!
Eid Shayari SMS in urdu/hindi
Koi itna Chahe Tumhe to batana,
Koi tumhare itne Naaz uthaaye to Batana,
EID MUBARAK to har koi Keh dega tumse,
Koi Hamari tarah kahey to batana.
Best wishes for Eid-ul-fitr

I wish you ALL a very happy and peaceful Eid.
May Allah accept your good deeds, forgive your transgressions and
ease the suffering of all peoples around the globe.
Eid Mubarik

Eid mubarak SMS in urdu/hindi
Jab kabhi bin mange aap per khushion ki barsaat ho,
jab kabhi app ka dil anjaani khushi se betaab ho,
to samaj lena koi aap ko duaon main yaad kar raha hai.
Happy Eid

Eid mubarak Greetings message
May Allah flood your life with happiness,
u r heart with love,
ur soul with spirtual,
ur mind with wisdom,
Eid Mubarak to you from all of my heart

Eid mubarak poem sms
The moon has been sighted The samoosas are ready
Here comes EID so just go steady
Lots of duas is all i request
and just wanted to wish you all the BEST!!!

"Eid Mubarak"
Cute Eid text message
Here comes the day, once in a blue moon.
With chanda mama shinin up bright And blessing everyone...
Her luv so tender, merciful.
Shinin down on the earth wishin us "Happy eid".."Eid mubarak"
Eid wish sms to special friend
Hum app ki yaad main udas hain,
Bas app say milnay ki ass hay,

Chahay dost kitnay hi kion na hoon,
Mere liye tp app hi sab se khas hain
Eid Mubarak To My Cute, Sweet and Special Friend.

Cute Eid text message
Eid Mubarak, Eid Mubarak
Our Eid has come
To bring us peace
To bring us love
To charish our life
It is the time
We Muslims came together
Shoulder to shoulder
It is the time
We Muslims
Share our love
Share believe
Eid Mubarak, Eid Mubarak.


Short Eid text sms in urdu/hindi
Eid ki sachi khushi to apno ki deed hai, Tum humse door ho to apni kya eid hai
Eid mubarak short SMS
Eid Mubrak Allah se aaj ke din meri yeh iltija Aur dua hai ki agli EID hum sath karien.

Romantic Eid SMS
Eid aayee hai sab log kehtey hain, Tum jo aajao to mujhe Yaqeen aaye

Meaning of Eid
Do you know the Meaning of EID?
I think it means "Enjoy in Duniya"
So, In your life all moments bring Eid for you...
Wish You.. Eid Mubarak.

Eid mubarak wishes
No shadows to depress u, Only joys to surround u, God himself to bless u,
these r my wishes for u, Today, tomorrow, and every day.

Eid Mubarik.
Eid mubarak text message in urdu/hindi
Zindegi ka her pal khushiyon se kam na ho
aap ka her din eid ke din se kam na ho
aisa eid ka din apko hamesha naseeb ho
eid mubarak

Short Eid poetry sms
Suhani dhoop barsat k baad,
Thori si hasi her baat k baad,

Usi tarah ho mubarak aap ko,
Yeh EID Ramadan k baad.

EID Mubarak
A great Eid ul-adha Message & Wish
Eid of sacrifice, & commitment 2 Allahs orders,
May Allah bless us with the same in all circles of life, & help all amongst us, who r helpless, worried, & waiting 4 his rehmat, Ameen. Eid Mubarak.

Short Eid Shayari
Chupkay say chand ki Roshni Choo Jaye Apko
Dheeray Say Ya Hawa Kuch Keh Jaye Apko

Dil Say jo Chahtay Ho Maang Lo Khuda Say
Hum Dua Kartay Hain Mil Jaye Wo Apko
EID MUBARAK

Cool Eid Shayari sms
Subha jab bhi nikhar dekhna
Sham jab bhi bahar dekhna
Raat ko tanhai mein
Tare jab bhi her baar dekhna
Pyar ko sada abaad rakna
Pyar ko Eid k lamhon me yaad rakhna
Friends like you is like rainbow
On the canvas of life we often go off colour,
but as long as people like u are there to add the right shades,
life goes on to be a rainbow!

Eid mubarak
App ko hamari taraf se Eid ki subh kamnayen
Raat ko naya chand mubarak, Chand ko chandni mubarak,
Falak ko sitare mubarak, Sitaroon ko bulandi mubarak.
Aur aap ko hamari taraf se:-

EID MUBARAK
App ko hamari taraf se Eid ki subh kamnayen
Mere Lab Pe Mola Na Koi Sadaa He
Faqat Mujh Nikamme Ki Yehi DuaHe
Meri Sanse Nikle Dar E Mustafa Pe
Gham E Dil Nabi Ko Sunate Sunate
Mera Yeh He Imaan, Mera Ye Yaqeen He
Mere Mustafa Sa Na Koi Haseen He
Rukh Un Ka Dekha He Jab Se Qamar Ne
Nikalta He Munh Ko Chupate Chupate...