Friendship SMS Messages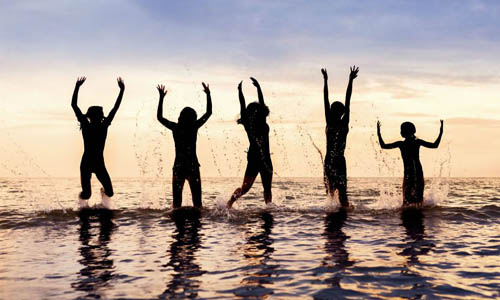 Friendship SMS Collection
A day is going to end again.
It is nice to have a friend like U
making my everyday seems so great.
Thank U my good friend lastly
good night n sweet dreams...
True meaning of friendship:
Where there is no compromise
in telling the secret.
And there is no secret
for which u need to compromise.
If all my friends were to jump off a bridge,
I wouldn't jump with them,
I'd be at the bottom to catch them.
My past says u met me.
My future says u will always remember me.
My dream says u care for me.
But my heart says this friend is born for me.
Friendship with me is like having Drugs.
Once u take it, U cannot avoid it,
When u dont get it, U r sick and when u leave it..
U r destroyed.
SO dont ever try to leave ME n my friendship..
Friend is one, who
F-inds you in a
R-ush of people,
I-nspires you to do something in life, Catches your
E-motions and
N-ever leaves you till
D-eath...
Friendship & Medicine
both r good 4 our health.
They care us when we need,
but the only difference is that.
Friendship has no expiry date!
Sometimes saying sorry is
the most difficult thin on earth...
But its the cheapest thing
to save the most expensive gift
called Relationship..!!!
Its not an achievement to
make 1000's friends in a year,
but an achievement is when
you make a friend for 1000's years.
To live a life i need heartbeat,
2 have heartbeat i need a heart,
2 have heart i need happiness,
to have happiness i need a friend,
and 4 a friend i need U ALWAYS
Some one asked me 4 how long will u both be friends?
i remained silent bcoz
i didnt know which is longer..
"ALWAYS" or "FOREVER".
What is a friend?
He looks out for you,
inspires you,
laughs with you,
cries with you,
understands you,
guides you and walks with you.
That's what a friend is.
The Test Of Friendship
Dosen't Comes When U R 2gether.
It Comes When U Part Ways &
U Realize That Despite The Distance,
The Friendship Is Still There...
I m not Wealthy but i have Rich Heart,
I m not Best but i will try my Best,
I may not be Right every time but
I m Surely not Wrong to choose U as my Friend !
If U need a friend and
there are a hundred steps between us,
you can take the 1st step to get near me
and i will take all 99 step to be there for you.
A friend gives hope when life is low,
a friend is a place when you have nowhere to go,
a friend is honest, a friend is true.
A friend is precious a friend is u.
U waited
9 months
2 c d world
1yr 2 walk
2yrs 2 talk
5yrs 2 start studying
BUT i really waited too many years
2 find a sweet friend like U !!
This is a message
from a
friend to a
friend for a
friend to be a
friend so that a
friend remains a
friend of a
friend who is a
friend forever.
Dosti kisi ki riasat nahi hoti,
Zindagi kisi ki amanat nahi hoti,
Hamari saltanat main dekh ker qadam rakhna,
Kion kay hamari dosti ki qaid main zamanat nahin hoti
The hardest part of
missing friends
is not their absence,
it's when you think
of all those good times
and ask yourself,
'will those moments ever
happen again?'
Friends should b like zero.
when u add,
they r same.
when u subtract,
they r same.
when u multiply,
they r same.
when u try to divide,
they become INFINITY.
This is a friendship bridge
when you are sad and lonely
just cross this bridge
on the other side of this bridge
always and all the tie I am waiting for you.
My friendship is nothing but a round,
Wandering why?
Because it has no end
Friends are like stars.
You can't always see them,
But you know they are always there for you.
There are no strings attached to a friendship,
no bonds to hold
or ties to bind.
Friendship stand on its own.
3 rules in Relationships:
Don't lie,
Don't cheat
and
don't make promises
you can't keep.
I want a relationship where we
talk like best friends,
play like kids,
argue like husband and wife,
and protect each other like siblings
0ur Friendship is Like Playing on See-Saw
Not only Because Its Always Fun With You
But Also Because I Wouldnt Mind
Going Down 2 See You Rising !!!
For a nice friend
"nice morning"..
For a sweet friend
"sweet morning"
For a loving friend
"lovely morning"
For a Good friend
"good morning"
Sometimes, people don't understand
the need of important person or friend,
Unless
They find the space empty!
A true relationship is
when you can tell each other
anything and everything.
No secrets and no lies.
Hum khud pe gharur nahi kertay,
Kisi ko dosti kerny py majbor nahin kertay,
Magar jisy ek bar dil mein basa lein,
Usay martay dum tak dil say door nahin kertay,
The rain may be falling hard outside,
But your smile makes it all alright.
I'm so glad that you're my friend.
I know our friendship will never end.
Relationship is like a violen,
Music may stop now n then,
But strings are attached forever.
So if u r in touch or not,
U r always remembered.
Don't Love a Friend who Hurts U
Don't Hurt a Friend who Loves U.
People like U are found only once in a lifetime.
So U better take care of yourself because
I don t want to waste another lifetime
to find a such a SWEET Friend.
Life is 5 star
Mother is top star
Father is king star
Teacher is Ultimate star
Lover is action star
But A friend is the
REAL STAR
True friends are like Diamonds,
They are real and rare.
False friends are like leaves,
They are scattered everywhere.
Take care, MY DIAMOND.
Friend is one, who
F-inds you in a
R-ush of people,
I-nspires you to do something in life, Catches your
E-motions and
N-ever leaves you till
D-eath...
Friendship & Medicine
both r good 4 our health.
They care us when we need,
but the only difference is that.
Friendship has no expiry date!
A true friend understands when u say I forgot,
waits 4ever when u say just a min,
stays with u when u say leave me alone
&
opens his heart even before u knock

The importance of good n sincere friendship
in our lives is like
the importance of heartbeats
they are not visible
but
they silently support our life
"Friendship is the hardest thing in the world to explain.
It's not something you learn in school.
But if you haven't learned the meaning of friendship,
you really haven't learned anything."
How long shall we be friends?
Do you want a clue?
As long as stars twinkle in the sky,
till the water runs dry and till the day I die.
We will be friends.
"A BEST FRIEND is like a four leaf clover,
HARD TO FIND and LUCKY TO HAVE"
MY friendship is just like a rubber band,
It is too flexible,
Stretch it as much as u can,
but if u leave it,
it will hurt u a lot, really a lot!
Treat life as sea,
Heart as d seashore &
FRIENDS like d waves.
It never matters how many waves r there?
What matters is which 1 touches d seashore.
A cute thought for those
who believe in friendship.
It's not necessary 2 share
every secret between true friends
but it's important that whatever u share is true.
"Friends" are like balloons
once u let them go
u cant ever get them back
thats y I ll tie u
tight to my heart
As u r precious to lose.
Make Sure That In Search Of A Perfect Person
You Don't Loose A True One,
Because
Perfection Is Fantasy
&
Truth Is Reality
Some relationships are like TOM & JERRY.
They tease each other,
knock down each other,
irritate each other,
but can't live without each other.